boats.com 2004 European Web Awards Winners Announced
Second annual awards presented at the Schroders London Boat Show
January 15th 2004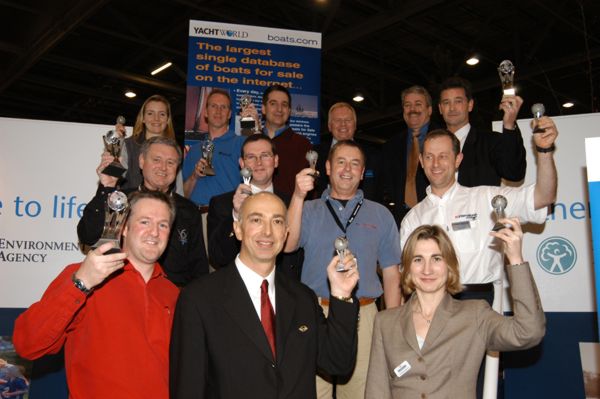 The Schroders London Boat Show saw the presentations of the second boats.com Marine Industry Web Awards take place on the Central Feature at Excel on Tuesday 13th January. Ten marine companies won industry acclaim when they received their awards at the prestigious presentation ceremony.
Presenting the awards, Ian Atkins, Managing Director of boats.com and award judge commented; "With an even bigger response to this year's awards from last year with over 100 entries, we had an interesting judging day where each of the shortlisted sites were examined by the 6 judges. Judges commented on the excellent standard across the board and we received some constructive feedback for all the entrants from the judges which we will make available to them."
Over 80 representatives from the European marine industry attended the award presentations which saw the sailing/watersport holiday provider, Sunsail's www.sunsail.com take the Best Marine Site Overall award. Matt West Managing Director of Sunsail commented on their success; "We are delighted to win this prestigious award. We have invested an enormous amount of time and effort into our website and feel this effort has been totally justified having been recognised by the boats.com award panel. It's a great initiative for our industry and we will definitely be entering for the 2005 awards."
Sunsail also took top spot in the Individual Contribution award followed closely by active holiday company, Neilson in 2nd place with www.neilson.com. A third place wasn't allocated for this category as the judges found that these two companies were clearly head and shoulders above the other shortlisted companies and they found it difficult to separate a 3rd place winner.
Leading dinghy manufacturer, Laser won the Best Manufacturer award for the second year running with www.lasersailing.com, yacht builder, Wally Yachts of Monaco took 2nd place with www.wally.com and Moody Yachts with www.moody.eu took 3rd place.
Swiss boat and yacht brokerage, Bachli International took the top Broker/Dealer spot with www.boat-trade.com for the second year running whilst Greek sail boat distributor, Vernicos achieved 2nd place with www.vernicos.com followed by boat broker, Ancasta International Boat Sales in 3rd place with www.ancasta.com.
Leading provider of outboard motors, Suzuki Marine won the Best Marine Equipment award with www.suzukimarine.co.uk, navigation technology experts, Transas Nautic scooped 2nd place with www.transasnautic.com and boat paint manufacurer, International Coatings gained 3rd place with www.yachtpaint.com.
Ian Atkins went on to comment about the awards; "We hope that the boats.com awards will encourage more companies in our industry to look at their sites carefully from the customer's perspective and to develop them as an integral part of the business. We hope to see more companies entering next year and to see possible improvements based on our feedback from previous entrants sites by the 2005 awards."
Judge and fellow presenter of the awards, Miles Mendoza of BBC Radio 2′s Steve Wright in the Afternoon Show commented; "When looking around the boat show its clear to see you are part of a vibrant industry. I would love to see more zest from some of the websites, reflecting the true and exciting nature of your industry without sacrificing clear, well laid out design and straightforward navigation."
The judging panel consisted of: Miles Mendoza, "web site of the day" presenter on BBC Radio 2′s Steve Wright in the Afternoon show; Kim Hollamby, Group editor of marine business and Internet International Boating Industry (IBI) magazine and ybw.com; Dr Ian Sealy Senior Technical Researcher at the University of Bristol; Ian Burton, MD of Aptek – Website experts/designers and trainers; Richard Clark, Editor of Web User magazine and Ian Atkins, MD of boats.com Europe.
All 6 judges examined the sites and judged them on the following criteria:
Quality and relevance of site
Overall look and design
Site navigation
Ease of Use
Speed of Use
Accuracy of Information