Super Servant to the Jubilee
America's Cup Yachts Get Unique Transport to the UK
July 31st 2001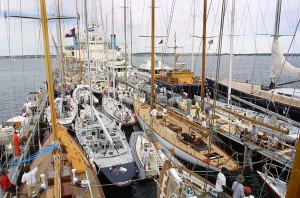 Newport, RI – On July 29, 30 New York Yacht Club vessels boarded the sunken Dockwise Yacht Transport (DYT) ship Super Servant 3. The journey of 3,200 miles to Cowes, England, for the America's Cup Jubilee began with this small step. Today, the water was slowly pumped out of the 456-foot ship, allowing the yachts to settle comfortably on their cradles.
Over the next two days, the cradles will be welded to the ship's deck, and the yachts, masts stepped, will be strapped into place. On Thursday, August 2, at 1 p.m., the semi-submersible Super Servant 3 will depart Newport with its deck cargo of yachts that measures 1,800 linear feet, or one-third of a mile. The low tide then will allow six feet of clearance under the Newport Bridge for the mast of a 118-foot "superyacht." The voyage will take about 11 days.
The yachts include 12 America's Cup 12-Meters: Columbia, Intrepid, Freedom, Fiddler (America II), Hissar (KZ-5), American Eagle, Gleam, Valiant, Northern Light, Nefertiti, Onawa and Lionheart. The first three successfully defended the Cup: Columbia in 1958, Intrepid in 1967 and 70 and Freedom in 1980. Also there are such well-known yachts as Ticonderoga, Black Knight, Nirvana and Marilee. For most of these yachts, this is their first trip outside the United States.
Following the festivities in Cowes, many of these yachts will go on the "Grand Tour." A number of them will board the same DYT ship for the trip to the Mediterranean. Four events will comprise the Grand Tour: Prada Veteran Boat Rally (Sardinia), Monaco Classic Week, Regates Royales (Cannes) and Les Violes de St. Tropez.
Event site: www.americascupjubilee.com