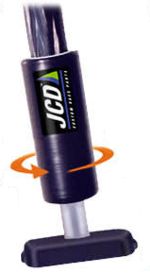 As is the case with many successful new products, the JCD Tiller Universal was created by a sailor for his own use after finding everything else on the market to be substandard.
John Cuccio started JCD Custom Race Parts after fellow sailors asked him for copies of the gear he was using on his own boats. The small Connecticut based company has since won accolades from many top sailors.
The JCD Universal is a removable machined socket that houses a swiveling rope-core urethane joint by Optiparts / Holland. The joint swivels smoothly from any angle and with zero play, eliminating the twisting loads that cause universal failours – while also allowing you to keep a good grip on the stick during tacks and gybes. The device is adaptable to 5/8″ or 3/4″ diameter sticks, and is fixed to the stick by a single screw. Weight is 1.3 oz, it adds 2″ to the existing shaft.
Those accolades? Here are two:
"This universal really gives me peace-of-mind reliability I can depend on , not the mention the excellent feel and control it gives the helm. It's definitely worth the extra bucks." — Greg Fisher, multi-class national champion
"I go through universals like crazy when I'm match racing. I would break a universal in a week. I had the JCD Hiking Stick on the Soling for over two months, and the universal doesn't show any wear. It is the only universal I would trust at our Olympic Trials." — Andy Horton, 2000 US Soling Olympic Trials runner-up; 1999 Lightning Pan Am Gold medallist.
The JCD Universal is $30. See www.jcdcustomraceparts.com