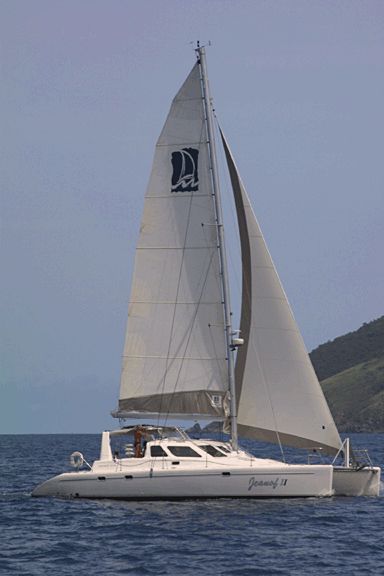 The South Africans have a two-year winning streak going in the Cruising World Boat of the Year Awards. Last year the Shearwater 45, a monohull, won the Overall Boat of the Year Award. This year, the 2002 Cruising World BOTY Awards for both Multihull and Overall went to the South African built Voyage 44, imported into the US by Voyage Yachts of Annapolis MD.
The first reason why sailors all over the world started buying boats from South Africa in large numbers was price: the exchange rate between the Rand and virtually every other currency is advantageous to non-South Africans. Price alone, however, cannot account for the surge in purchases nor the awards garnered. The South African boat building industry has achieved, in many instances, the ideal scenario for buyers: superior craftsmanship and design at bargain prices. The Voyage 440 meets both criteria.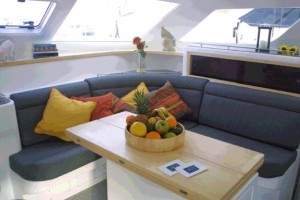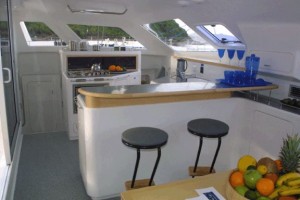 The Voyage 440 is a performance bluewater cruising catamaran with enough design options to satisfy any buyer. Available in both a 440 Daycruiser version,with no coachroof, this model is designed specifically for the Day Charter trade, but could also make an interesting private party boat, with seating for 32(!). The Voyage 440 as tested by Cruising World is available in either an Owners version with 3 queen size cabins, a choice of 2 or 3 heads/showers, or the Charter version with 4 queen size cabins with 4 heads/showers. The deck layout is designed for shorthanded sailing, with all controls led aft to the coach roof winches. The cockpit is shaded by a Bimini with hard top walkway aft. There is a traveler arch with a step-through to the dive platform.
In awarding the boat Overall honors, Cruising World magazine said: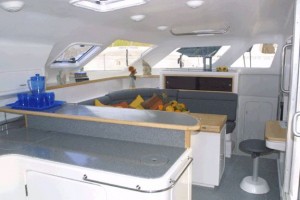 "Of the structure, a judge said, 'Every multihull takes enough time getting through the wind that you've got torsional loads going through the skins, and, man, this one was a tight as a good guitar body.' Of the sailplan, one judge said, 'They really had their bases covered for a variety of wind ranges in a very safe way. Of the deck layout, another judge said, 'Wherever you walked, you had a feeling that it was the most appropriate pathway to where you were going.' Of the systems, a judge said, 'The electrical panel was absolutely 4.0, and the fuel tank forward was as fine an execution as I have ever seen.' For these reasons and others, the judges called her the Best Cruising Multihull for 2002.
One judge said 'She's the first multihull I've seen that I really consider a prime yacht and a functional cruiser.' Said another, 'Everything about this boat indicates that it's seriously made for going to sea. Without any hesitation, you could hang the word 'passagemaker' on it and your conscience would be at ease.' It's the first time in the contest's nine year history that the overall boat of the year award goes to a multihull. Congratulations to the folks at Voyage Yachts in Cape Town, South Africa."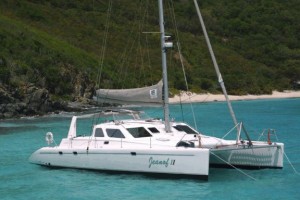 Specifications:
| | | |
| --- | --- | --- |
| Overall Length | 13.30 m | 43.7 ft |
| Waterline Length | 12.35 m | 40.5 ft |
| Beam | 7.65 m | 25.1 ft |
| Draft | 1.1 m | 3.5ft |
| Mast Height off DWL | 18.90 m | 62 ft |
| Genoa | 45.8 m2 | 528 ft2. |
| Fully Battened Mainsail | 60 m2 | 646 ft2. |
| Water Capacity | 640 l | 150 US Gal |
| Fuel Capacity | 400 l | 106 US Gal |
Designer: Alexander Simonis & Voyage Yachts
Price: $310,000 FOB Capetown South Africa
Voyage Yachts
PO Box 3377
Annapolis. 21403. MD
Toll free: 1 888 869 2436
Tel: 1 410 956 1880
Fax: 1 410 956 6919
E-mail: info@voyageyachts.com www.voyageyachts.com
Tags: BOTY, catamaran, Cruising World magazine, sailboat, Voyage 440, Voyage Yachts