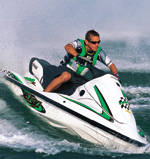 New to the stable of Kawasaki Jet Ski personal watercraft for the 2002 model year is the 1200 STX-R. The 145-horsepower three-rider model actually combines strong attributes from existing Kawasaki Jet Ski models. The hull is from the company's luxury touring flagship, the 1100 STX D.I. The 1,176cc engine is from the Ultra 150, the fastest production-built watercraft on the market.
Constructed of hand-laid fiberglass, the hull for the new model has been lightened for improved acceleration, as well as outfitted with racing-style sponsons for more precise handling. The carbureted engine features a water-jacketed exhaust system that reportedly separates cooling water from the expansion chamber, which allows exhaust gases to flow dry and free from water vapor.
Standard features include stowage space including a glove box, and multifunction LCD instrument panel and "race-inspired" black-and-green graphics. Price has yet to be released.
Specifications
| | |
| --- | --- |
| Overall length | 122.8 inches |
| Overall width | 46.5 inches |
| Overall height | 40.2 inches |
| Engine Type | Two-stroke three-cylinder with crankcase and reed valve induction |
| Displacement | 1,176cc |
| Horsepower | 145 at 7,000 rpm |
| Bore x stroke | 80.0 x 78.0mm |
| Compression ratio | 5.8:1 |
| Cooling system | Inducted water |
| Carburetion | Triple Keihin CDCV 40s with single fuel pump |
| Lubrication | Variable-rate Superlube oil injection |
| Ignition | Digital DC-CDI with K-TRIC |
| Starting | Electric |
| Propulsion system | Jet pump axial flow single stage |
| Thrust | 904 pounds |
| Fuel capacity | 14 gallons |
| Oil capacity | 1.3 gallons |
For more information
Kawasaki Motors Corp. U.S.A.
9950 Jeronimo Road
Irvine, CA 92618-2085
(949) 770-0400
www.kawasaki.com
Tags: Kawasaki, Kawasaki Jet Ski 1200 STX-R, PWC